Opening computer labs in Ruby Valley
Ruby Valley is a remote valley that lies in the Ganesh Himal region near the Tibetan border in the Dhading, Gorkha, Rasuwa, and Nuwakot districts of Nepal.
It's a beautiful valley surrounded by amazing landscapes, lush green hills, and a close-up view of the Himalayan range.
This region has vast geographical, biographical, and cultural diversity, inhabited by various groups of people mostly Tamang, Gurung, and Ghale in the northern area and Brahmin, Chhetri, Dalit, Newar, and Chepang in the south.
Each with their own culture and traditions but extremely hospitable and friendly people. It is also the birthplace of Discovery World Trekking founder Paul Gurung.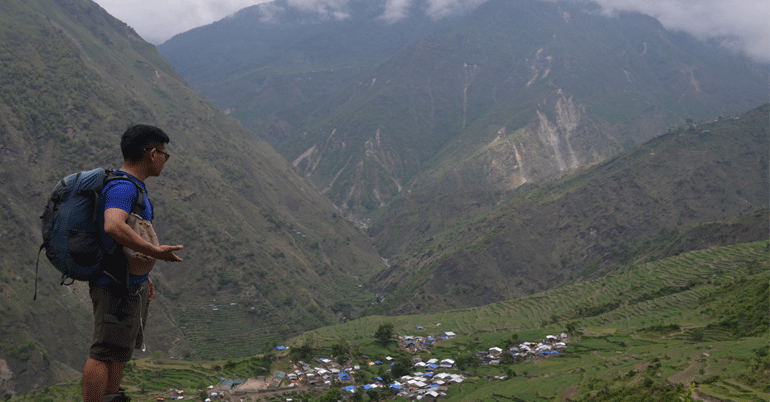 Being a remote valley many parts are still inaccessible by road which has caused a toll on its infrastructural development with most of the population living with low income, heavily dependent on agriculture, low literacy rate and a large number of youths are unemployed.


The children in this area have never seen a computer before let alone use one, putting them at a big disadvantage among those in urban areas and contributing to the unemployment problem causing them to be stuck in the vicious cycle of poverty.
Because of this Discovery World Trekking and Zen's Outdoor Leadership Camp for Youth decided to provide Laptops with OLE-designed educational softwares to public schools of Ruby Valley in the two villages of Chalish and Khading.
Discovery World Trekking closely worked with Zen's Outdoor Leadership Camp for Youth to provide laptops loaded with the latest educational softwares from Open Learning Exchange (OLE) Nepal available in both Nepali and English.
This supports the education of students from grades 1 to 5, including a network with over 8000 resources including the online encyclopedia Wikipedia, E-learning website Khan Academy, and many more, all available offline.
We supplied 11 laptops to Chalish village then 5 laptops in Khading village and set up running computer labs in the local school of these two villages.
At Discovery World Trekking we believe that education and training two most powerful weapons to fight against rural poverty and rural development.
So, in order to improve community school education in the Ruby Valley region we brought the local school teachers from Kathmandu for a teacher training workshop by Open Learning Exchange (OLE) Nepal to improve teaching-learning approaches so that it is par with national standards of classroom practice while it's still contextualized to fit the local conditions.




As a company that works in conducting treks in some of the most rural regions of Nepal, we do our best to improve the social conditions of the regions in every way can.
This is our attempt at educational development, one the most important aspects of social development, we would like to thank ton to Zen's Outdoor Leadership Camp for Youth and Open Learning Exchange (OLE) Nepal for making our initiative possible and also for choosing to be our clients.
We will continue to work to develop every way we can.