Our Team
Discovery World Trekking is a team of local tourism professionals who are well-managed, qualified, and reliable trek/tour experts. We consider our team a second family and make sure each of us is happy.
Our team members are trained, friendly & experienced in their respective areas, and well-versed in English. We believe in teamwork. Our management is passionately committed to offering high-quality personal service in a professional yet friendly way. We promise to serve you with well-organized trips that meet the highest safety standards and provide optimum satisfaction.
The team members at Discovery World Trekking come from different Himalayan regions and can provide our valuable clients with regional information while letting them experience the local cultures and customs.
Learn More About Discovery World Trekking History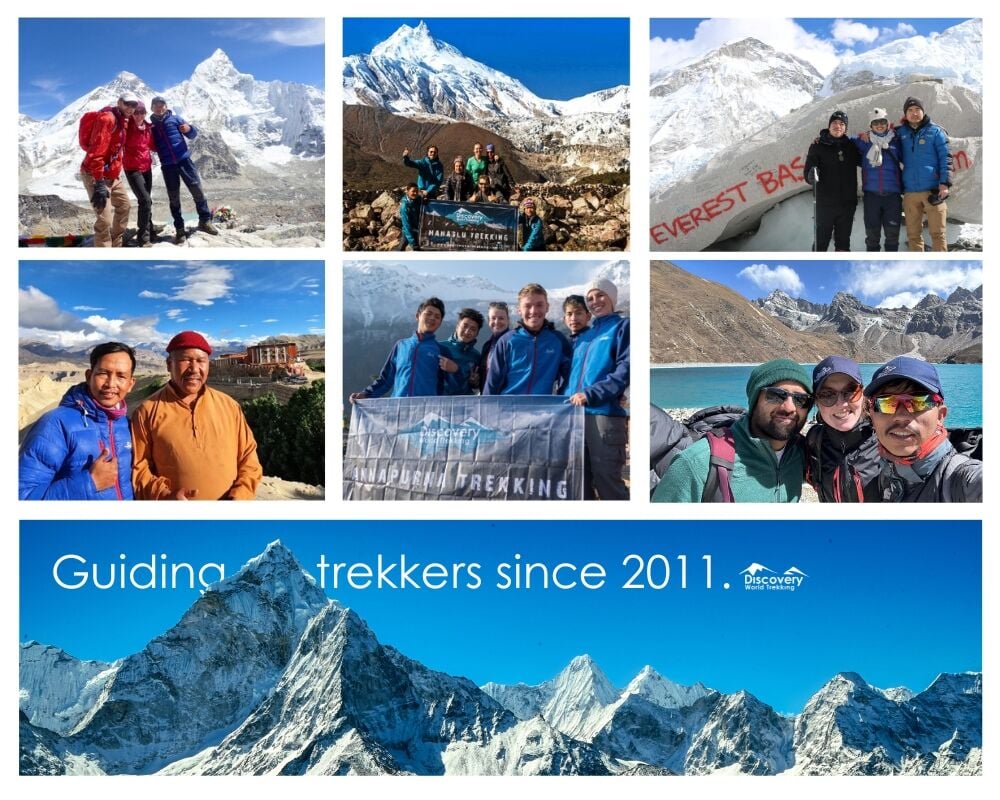 Administration
Paul Gurung, the founder and managing director of Discovery World Trekking, is passionate about tourism and is a dynamic, flexible, and open-minded leader. He is responsible for overall company leadership, handles public relations, and maintains strong and healthy relationships with our guests.
Mr. Paul was born and raised in the Ganesh Himal region -in the magnificent Ruby Valley.
He joined the tourism industry early in his childhood as a porter due to his family's economic condition. He often had to carry loads that weighed more than him.
After completing his schooling, he enrolled in Tribhuvan University in Kathmandu and ultimately graduated with a management degree. Even in college, when he had a chance, he used to take part in treks and tours as a porter. This is how he traveled almost all parts of Nepal and definitely - all major trekking paths in Nepal.
Paul got a chance to visit Australia after gaining more than 15 years of experience leading countless Himalayan treks and expeditions in Nepal. While working in the hospitality industry in Australia, he visited various countries in Europe and Asia - such as Singapore, Newzealand, Thailand, Vietnam, and France. These experiences helped him hone his hospitality skills.
By 2010 AD, Paul had gained hands-on experience in trekking, rafting, rock climbing, and expedition. Then he decided to set up the Discovery World Trekking company. His mission is to provide quality services to trekkers and explorers so that they can create unforgettable memories.
And through his hard work, Discovery World trekking is now a well-established company that guides more than 700 people from all over the world every trekking season. Paul is known for providing expert advice and customizing trips according to the tastes and preferences of clients.
Paul is passionately committed to sustainably leading the tourism industry and contributing to the community to improve living standards, economic growth, and quality education in the remote areas of Nepal, particularly in the Ruby Valley.
Paul believes that the key to a successful life is ethics, far-sightedness, hard work, and good relations. In fact, besides his home family, he considers his team members and valuable clients as family members too. His philosophy for life is - "Happiness is the key, and only happy people can make others happy", and he works with his team accordingly, paying equal attention to the satisfaction of his team members and guests.
He is looking forward to heartily welcoming you to a rewarding and challenging trek in the mighty Himalayas.
Bimal Gurung
Executive Director
"Coming together is a beginning. Keeping together is progress. Working together is a success."
Mr. Bimal is a humble, introverted leader with analytical skills. He also possesses excellent leadership qualities. His roots take him back to the Ganesh Himal region in the Ruby Valley.
From his early life, Bimal understood the importance of tourism in Nepal as he got an opportunity to get involved in trekking and hiking as tourism was his family business. This experience provided him with practical knowledge. He would later learn theoretical knowledge about tourism in college.
After he finished college, Bimal joined Discovery World Trekking as an Executive Director. The company had barely started. When he joined the company, he was young, energetic, and passionate. This proved beneficial for him, as well as that of the company.
As Bimal knew about digital marketing, he wholeheartedly used his knowledge to grow the company. Looking back, we can rest assured that his hard work paid off. Today, Discovery World Trekking Company has become one of the leading tour and expedition companies in Nepal.
By now, Bimal has gained ten years of experience managing and administering the company, and he is one of the most valuable people in the company. However, he emphasizes that learning is never complete, and he is still learning.
Like the rest of his team, he believes in hard work and honesty, and he would feel honored to serve adventurers in their quest to trek some of the most adventurous trails in the Himalayas.
Thaneshwor Poudel
Accountant
Working with DWT: since 2010
Place of birth: Pyuthan
Originally from Pyuthan, Thaneshwor Poudel is our accountant and has been with us since 2010. He is responsible for helping us deliver quality services to our clients. Thaneshwor loves outdoor activities and enjoys taking weekend trips.
Mountaineering Leaders
Hmanta Shertha
Mountaineering Leader
Lhakpa Sherpa
Mountaineering Leader
Dilip Tamang
Mountaineering Leader
Tenzing C Sherpa
Mountaineering Leader