The Computers distributed to the remote schools during the Ruby Valley Trek
Discovery World Trekking distributed computers to the School of Shree Kanya Devi in Chalish and Sarasota in Khading during their visit to 12 days Ruby Valley trek. This campaign was initiated jointly in coordination with ZOLCY.
Furthermore, different activities were conducted focusing on the encouragement, creativity, innovation, and the development of student personality and overall betterment of education during their extra days stay at School.
Our clients received the special welcome program along with different traditional dance performances by the community of villages.
The participants on this trip were involved from different sectors and educational backgrounds. All of the students of these two Schools including teachers and parents have benefited from this practice session exhibition.




Although very near the capital city of Kathmandu, Ruby Valley Trek is still the remotest region of Nepal remaining untouched by modernization.
The daily life of people relies on engaging mainly in traditional agriculture as a source of livelihood. It is also one of the devastating earthquake-affected areas, where the construction process is slowly being built.
Both schools have completely been damaged, the students are still obliged to study outside, on the School premises with temporary shelter.




Ruby Valley Trekking is popularly known for a fully supported homestay trek that is one of the easiest as well as all-season trips with low altitude.
This recently explored hidden treasure of Nepal is relatively cheaper in comparison to other classic treks in Nepal Himalayas, where the typical authentic local culture, customs, and lifestyle of people are most impressive and alluring.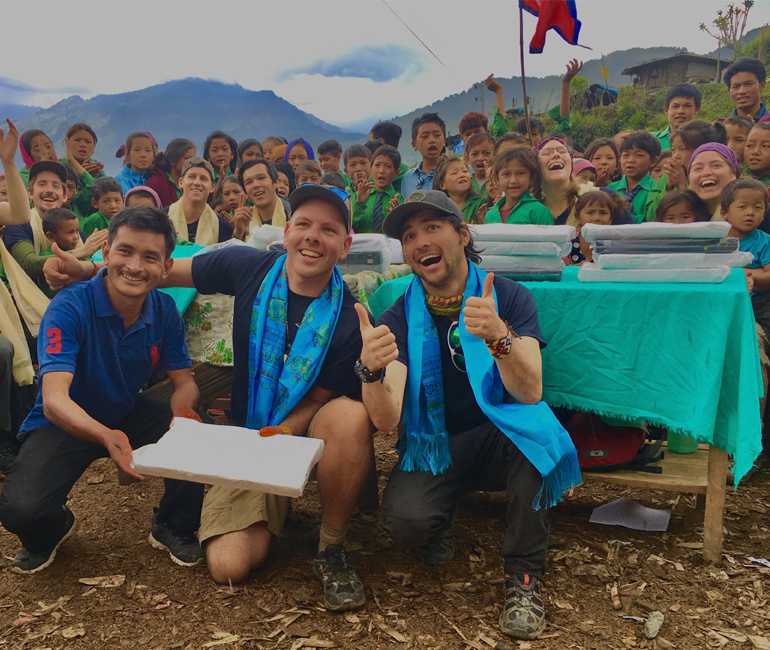 The journey commenced at Syabrubesi with a bus drive from Kathmandu, and then three days hiking through isolated dense forests with mesmerizing views of mountains, crossing the Panagsang Pass at an altitude of 3,845 m, took Chalish village then at Khading village.
The group spent further days undertaking the program in these village schools. During a day program in each School, the computers were handed over to both School administrations.
The group was returned to Kathmandu via Magne Pass through the Dhading besi bus ride.


After the earthquake, Discovery World Trekking has been constantly in touch with this region by supporting needy things in the community.
We are being able to supply the necessary equipment for villagers to keep their hopes alive through our valued client's continuous help and support. Our next campaign is to help rebuild the demolished schools and houses.