A detailed guide to reaching Jomsom via Annapurna Circuit and fly back to Pokhara
If you love peaceful nature, high snow peaks, and get excited at high altitudes, you will probably like a shorter Annapurna Circuit trek that starts with a drive to Bhulbhule and ends with a flight to Pokhara from Jomsom. It is a shorter version of a longer Annapurna Circuit trek, mainly for those who are short of time. Unlike the classic Annapurna Circuit trek, though you will reach very close to the Annapurna mountains, you will not encircle it completely.
Trek highlights
All in all, Annapurna Circuit allows trekkers a chance to see how rural Nepal looks and functions. The trek provides deep insight into Nepal's ethnic, climatic, and geographical diversity. Even though a high-altitude trek, in itself, casts a spell on anyone. Those who have grown up in big cities or love nature by heart will find this trek exciting. However, here are some attractions you can enjoy during this trek.
Cross Thorong La Pass (5,416m), one of the highest altitude passes in Nepal

Kali Gandaki Gorge, one of the deepest gorges in the world

Stunning views of Mt. Annapurna, Thorong Peak, Nilgiri, Chulu West, and Chulu East, Tukuche Peak, Dhaulagiri, Lamjung Himal, Annapurna II, and Annapurna IV

Lush dense forests that give way to trans-Himalayan deserts, glacial lakes, waterfalls, and pristine blue rivers

Typical ethnic Tamang, Ghale, Gurung, and Thakali villages

Muktinath Temple, a common holy site for Hindus and Buddhists

Observe the yak pastures

Jomsom, the headquarter of Mustang

Visit Barge Monastery, the largest in Manang.

Thrilling mountain flight from Jomsom to Pokhara
Annapurna region:
Annapurna region was open for tourism only in 1977. Before 1977, tourists were not allowed in this region due to Khampa guerrillas operating from this region into Tibet. In 1977, the Khampas, locals, and Nepal Army reached a settlement effectively opening this region to the tourists.
Due to the diversity and its richness in flora, fauna, and topographical uniqueness, the Nepal government has designated this area as Annapurna Conservation Area Project (ACAP) to preserve its richness and transfer it to future generations intact. ACAP is the largest conservation area in Nepal, with a land area of 7,629 square kilometers, and was established in 1986 AD. ACAP website states that this conservation area is home to 1,226 species of flowering plants, 105 mammals, 518 birds, 40 reptiles, and 23 amphibians.
If you want to learn about human culture, traditions, and diversity, ACAP, provides you plenty of opportunities to observe several ethnicities in the Annapurna region, including the Gurungs, the Magars, the Thakalis, the Manage, and the Loba. Most of these inhabitants are either Buddhists or Hindus and celebrate the religious ceremonies slightly differently.
Annapurna Circuit to Jomsom
The complete Annapurna Circuit trek mostly starts from Bhulbhule, progressing north-westwards to Jagat, circles the Annapurna massif, and ends at Pokhara, the tourist capital of Nepal.
However, in Annapurna Circuit to Jomsom trek, you will cover roughly half the Annapurna Circuit. This half of the circuit is also the more difficult part and takes place at a higher elevation, eventually reaching 5,416m at Thorong La Pass, just before dropping to Muktinath. By arriving at Muktinath, you are almost at the end of your journey. You just need to reach Jomsom Airport and fly to Pokhara. The whole trek completes in 12 days.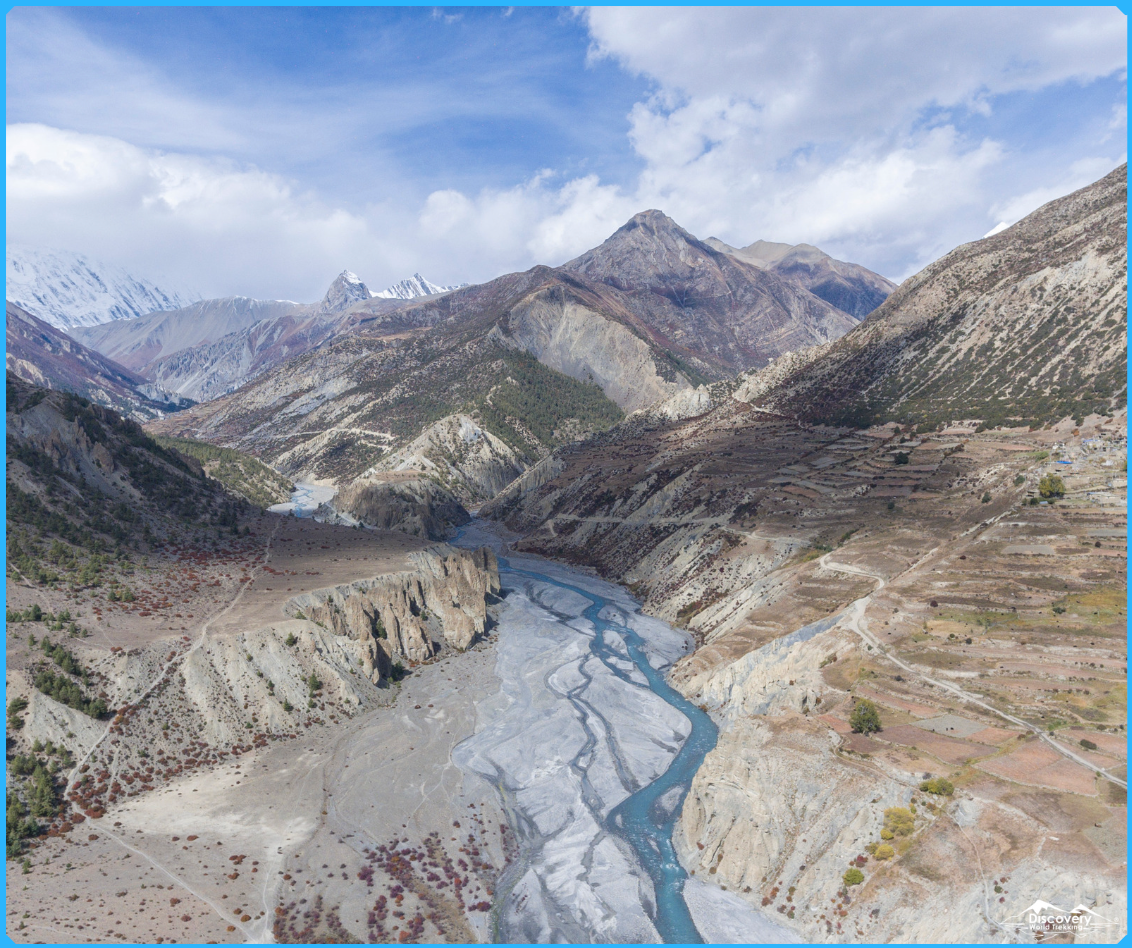 Annapurna Circuit to Jomsom leaves behind lower elevation treks in the Annapurna Circuit. The major attraction that you will miss includes Poon Hill and Ghorepani. However, your hike lets you experience the high mountains up close as you will be passing through different climate zones, starting from the sub-tropical at Jagat to the alpine near the Thorong La Pass area. We are sure you will love the high-altitude settlements in Manang, Pisang, Chame, and Yak Kharka.
Thorang La Pass is one of the highest passes in the Himalayas, and crossing this pass can be very challenging. You will most probably stay at Thorong Phedi before heading to the Thorong La Pass the following morning. It is crucial to start the hike early morning to avoid the afternoon wind.
Best time for the Jomsom trek
Discovery World Trekking conducts Annapurna Circuit trek to Jomsom throughout the year, but if you love easy hikes and fantastic views, spring (March-May) and autumn (Sept-Nov) are the best seasons. Although the exact weather condition in the trek region varies according to altitude and season, here is a brief description of what weather conditions are like in high trek altitudes during different months.
During January and lasting to early February, there is heavy snowfall in the high altitudes. Heavy snowfall buries Thorong La Pass, making the pass crossing treacherous. If you are allergic to colds, this is not the best time for the Jomsom trek via Annapurna Circuit.
From late February through March, and till April, the days are warm, the skies are clear, and the trails are in perfect condition, enabling you to enjoy your trek to the fullest. The clear views of mountains and the blossoms of rhododendrons in the forests enhance your trekking experience. In May, however, there are chances of getting pre-monsoon rainfall, making treks challenging.
During June, July, and August, the monsoon becomes active in Nepal, bringing in heavy rainfall in trek regions, and resulting in wet and slippery paths. However, monsoon provides quite different views as rivers and waterfalls roar into life, and the vegetation becomes lush and green, thanks to the heavy rainfall. During these months views, however, may not be clear.
Autumn in Nepal starts in September and ends in November, and this is also a perfect trek season. Monsoon will be over by September, and it leaves behind rainwashed mountains allowing you stunning views of mountains as you enjoy the great trails. Autumn is also a season for various festivals in Nepal, such as Dashain, Tihar, and Chaat, making the whole environment festive. We certainly recommend autumn for the best trek experience.
From late November to January, the temperature falls, making days cold and nights colder. Snowfalls start in the high elevations, making treks difficult but not impossible. If you love the snow, you can surely trek in these months, but if you are allergic to cold, this is not a good time for this trek. One advantage of trekking during the months is that the trails are uncrowded.
Trekking Grade
The trek is challenging as you will reach 5,416m/17,769ft at Thorong La Pass. The paths are often steep, rocky, and even slippery in certain sections.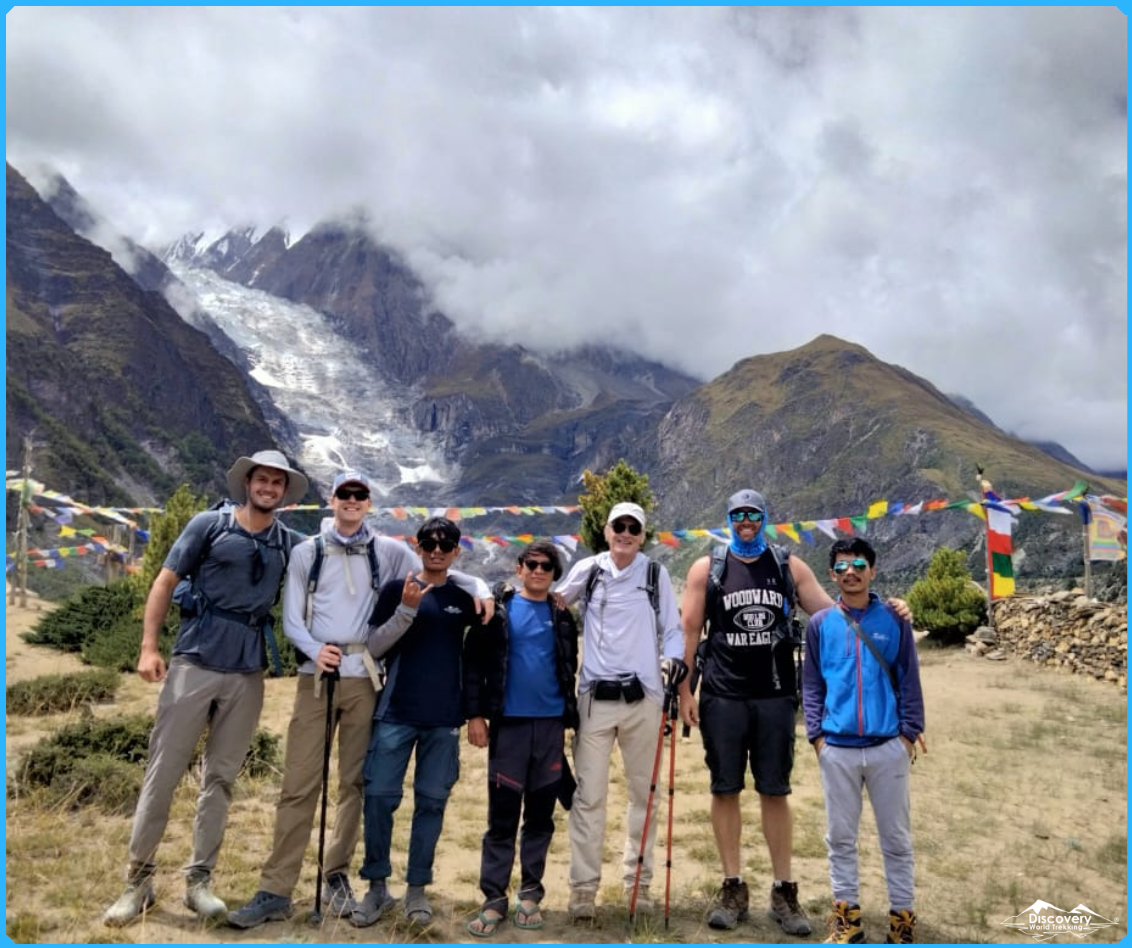 Preparing yourself
A normally fit person can complete Annapurna Circuit Trek to Jomsom. However, the fitter you are, the more you will enjoy the trek. So, we advise you to participate in stamina-building exercises such as jogging, swimming, and cycling for a few weeks before joining the trek. You can also trek for six to seven hours locally, carrying a regular backpack.
As you pack for your trek, we advise you to get a camera to capture the stunning landscapes and later show them to your friends and family. You can use your mobile camera, but for better image quality, a good camera is a must.
You will be busy trekking during the day, but after dinner, you will have plenty of time for your use. So, plan to spend that time accordingly. You can bring books to read or game paraphernalia such as cards, monopoly, or chess.
Insurance:
As this is a high-altitude trek, it comes with certain risks associated with high-altitude expeditions, such as altitude sickness, landslides, bad weather, and so on. The trek regions do not have significant health centers, so if a mishap occurs, we need to deploy a helicopter to transfer you to treatment centers. Hence, an adequate insurance policy is a must for this trek.
Your insurance must cover helicopter transfer and rescue up to 6,000m in addition to treatment costs. Please make sure to call your insurer and specifically ask if their policy covers helicopter rescue, do not just rely on what insurers say on their website. If you ask, we can recommend an insurance company for you, but we are not engaged in selling travel insurance.
Luggage
For most treks, it is always better to travel light. Discovery World Trekking arranges porters to carry your luggage, but your luggage weight limit is 9 kg. One porter will carry the luggage of two trekkers, and our porters will not carry more than 18 kg of luggage. However, if you want, we can arrange a porter for a trekker for an extra cost. You can store your extra luggage at the hotel you are staying at or at the Discovery World Trekking store for free. You need not bring all gear, equipment, or clothes from abroad, as you can buy those items at moderate prices in Kathmandu.
Spending money
Our trek package covers most costs, but it does not cover all of them. Hence you need to bring spending money to meet several expenses. Most probably, you may need at least two days of a hotel stay in Kathmandu, one before starting the trek and the other at the end. Our package does not include hotel stays and meals in Kathmandu. We would like you to choose your stay based on your tastes, preferences, and budget. Kathmandu has hundreds of hotels and lodges to suit your needs.
Similarly, you will need to pay for your lunch and dinner in Pokhara. Once more, we have not included this cost in the package to accommodate your choices. In addition to these costs, you will need money for hot (tea/coffee)/cold/alcoholic drinks, snacks, souvenirs, tips for crew, water, insurance purchase, visa fees, and other miscellaneous expenses.
For spending money, we advise you to bring cash (major currencies) and exchange them for Nepali Rupees in cash exchanges abundant in Kathmandu. You have the option to bring a traveler's check, but despite the security advantage, you will face lengthy processes and high bank commissions while converting the traveler's check. We advise you to exchange your foreign currency in legal cash exchanges instead of banks to avoid lengthy processes and high commissions. Banks can charge you 4 percent or more for cash exchange.
You can also withdraw Nepali Rupees from ATMs in Kathmandu. Most of these ATMs are open 24/7. However, your limit is Rs.35,000 for Rs.500 fee. If you have Indian Rupees, please note that only INR notes of 100 and 2,000 are legal in Nepal.
We estimate that you might need USD 10 to 20 per trekking day to meet miscellaneous costs such as water, mobile charge, etc.
Currently, 1 USD is about 125 NRS.
Visa
All nationals, except Indians, need a visa to enter Nepal. However, citizens from most countries can receive an on-arrival visa at Tribhuvan International Airport (TIA) in Kathmandu or immigration checkpoints along Nepal-India or Nepal-Tibet border. For a visa application, you will need a passport with at least six months of validity, a passport-size photo, and visa fees. You can pay the visa fees in cash. The current rate is USD50 for a 30-day stay. Children under ten will receive free visas.
Citizens from China and SAARC (India, Bhutan, Bangladesh, Pakistan, Maldives, and Sri Lanka) are also eligible for free visas. However, there might be some restrictions.
Nationals from certain countries (Nigeria, Zimbabwe, Swaziland, Cameroon, Ethiopia, Iraq, Palestine, Ghana, Somalia, Liberia, and Afghanistan) may not be eligible for on-arrival visas. So, if you are a national belonging to these countries, you may need to contact your local Nepal embassy.
Nepa Government can change visa rules without prior notice. Hence, for recent information, please visit https://www.immigration.gov.np/ .
Getting there
You must arrive in Kathmandu at least one day before the trek departure date by 3 pm. It is important as it provides you time to attend the trek briefing. During the trek briefing, we will introduce you to your trek lead, check your luggage to ensure that you have not missed packing any essential items, and provide other vital information about the trek.
When you land at TIA (Tribhuvan International Airport), you will find our office representative holding a pamphlet with your name and our company name. After greeting you, they will present you with a marigold garland as a welcome gesture and then take you to your hotel in a private vehicle. It is our free service to all guests coming for trekking with us. To take advantage of this service, you have to share your flight details with us after booking the trek. Similarly, we will drop you off at the airport when you return to your country.
After completing the trek briefing, on the trip departure day, we will leave Kathmandu on a bus and head west to Bhulbhule. The bus will first follow the Prithivi Highway along the banks of the Trishuli River to reach Dumre. From Dumre, the bus will head north past Besishahar to Bhulbhule.
As you travel on the bus, you will get a chance to witness the mountainous region of Nepal. You will see terraced farms, traditional villages, fierce rivers, and high mountains, including the Ganesh range and Manaslu mountain. You will spend your first night at Bhulbhule in the trek region.
Permits & fees
To travel inside Annapurna Conservation Area Project (ACAP), you will require an ACAP permit. If you are a SAARC (India, Sri Lanka, Pakistan, Maldives, Bhutan, Bangladesh) citizen, you can acquire an ACAP permit for NRS 200 (around USD2). For other foreign citizens, the permit costs Rupees 3,000 (~USD 25).
In addition to the ACAP permit, you will also need to Trekkers' Information Management System (TIMS) card, which costs Rs. 1,000 (~8 USD). You can get both of these permits from the Nepal Tourism Board Office at Pradarshani Marg, Kathmandu.
As a responsible trek company, Discovery World Trekking will get these required permits for you to avoid any hassles. The trek package includes all permit costs.
Language:
You do not need to worry about language. Even though the national language of Nepal is Nepali, a sizeable population, mainly in the cities, can understand and speak English. Our guides can also speak English, Spanish, and Japanese. So, there is no reason for you to be daunted by the prospect of getting to a foreign country that speaks another tongue.
Remaining in contact
Most lodges/tea houses/ hotels you will be remaining in are internet-connected, and you can contact your friends and families using the internet. However, you will need to pay a service fee to use the Wi-Fi. You can also buy a local sim in Kathmandu and use it to contact your friends and families. However, the mobile signals may not be as strong at higher elevations. Discovery World Trekking office remains in contact with all its trek teams at least once a day via the trek guide using a mobile. It is important for us to know if there are any difficulties our trek teams are facing. We want to make sure treks are progressing smoothly and as planned.
Food & water
This 12 days trek is an intensive trek, requiring a lot of energy. Hence, adequate, hygienic, and nutrient-rich food is a must for trekkers. We will arrange plenty of nutritious food for you during the trek at the best available lodges/hotels in trek regions. However, you might not have all the options that big cities provide. Moreover, as you get to higher trek regions, the food choices get fewer and more expensive. The cuisine you will enjoy will be local, Asian, or Western.
Though plenty of non-veg items will be available, we do not recommend them for hygiene regions. Instead, we advise you to take fresh vegetables and plenty of liquids. The staple food of Nepalis are rice, lentils, and curry, and it is a good idea to consume these foods, as rice provides enough carbohydrates to energize you.
You can buy bottled water at the en-route shops, but certain trek regions may not allow plastic bottles. So, you are better off with a water bottle. You can buy boiled water at lodges/tea houses and put it into your water bottle. We also suggest you use water purification pills before drinking water. If you do not have these pills, our team can provide them for you.
We advise you against drinking water from wells, taps, and rivers in trek regions because the water might not be drinkable.
Accommodations
The trails of Annapurna Circuit to Jomsom are remote. However, you do not need to camp outside. You will find lodges/hotels/tea houses at the right places to spend the night. We have years of experience conducting treks in this region, and over the years, we have gathered information about the best lodges in these regions.
All lodges will have electricity, and you can even enjoy hot showers and Wi-Fi by paying a small fee. Most rooms are twin sharing basis. We will arrange rooms with attached bathrooms wherever available. If not, you will be spending nights in standard rooms.

Staying safe
Our crew is highly skilled, experienced, and trained to handle all situations professionally. They come from the remote high Himalayas and have phenomenal endurance at high altitudes.
Our guides are government licensed. They have completed intensive wilderness first aid training, and our team carries first aid kits and other appropriate equipment to face any situation. Moreover, you will be trekking as a group as an extra layer of safety.
The trek to Jomsom via Annapurna Circuit takes place at a high altitude reaching 5,416m at Thorong La Pass, just before descending to Muktinath. So there is a risk of catching altitude sickness. To track symptoms of altitude sickness and take precautions early, our crew members use oximeters to monitor oxygen blood saturation levels.
Though altitude sickness is quite common, there are ways you can minimize the chances of getting altitude sickness. Here are some of them:
Do not skip acclimatization days

Take enough food during trekking

Keep your body warm

Take plenty of rest after a daily hike Walk at your own pace

Drink at least 4 liters of water every day

Drink garlic soup

Avoid alcoholic and caffeinated drinks.

At high altitudes, if you feel uncomfortable, it is probably due to altitude sickness unless proven otherwise. You need not worry too much about mild altitude sickness, but severe altitude sickness can be life-threatening and needs immediate care. So as you travel, if you become aware of the following symptoms, tell your guide immediately.
Tiredness and dizziness

Nausea and vomiting

Headache

Difficulty in sleeping

Appetite loss

Increased heart rate and shortness of breath

In case of severe altitude sickness, we might need to deploy a helicopter for rescue (funded by insurance) and transfer you to treatment centers. So, adequate insurance is a must for this trek. Moreover, if someone falls ill, your guide has the authority to decide whether to continue the trip or descend immediately based on the overall condition of the trek team members.
Being cared
If you are daunted by the prospect of flying to a foreign land that speaks a different language and has a different culture, you need not worry. For this reason, we will take care of you from the moment you land in Nepal. We provide free airport to hotel transfers for our trekking guests. You just need to share your flight details with us. Free airport pick-up service will help you navigate the new city, and more importantly, you can contact us if you require any help.
As a responsible tour operator, Discovery World Trekking believes in universal brotherhood and views each of its clients as a valuable global family member.



Finally
You now have enough information to decide whether to pursue this trek or not. The decision is entirely yours. We have demystified Annapurna Circuit Trek till Jomsom, from where you will fly to Pokhara. Should you decide to take on this trek, you can call/Viber/WhatsApp Paul at +977 - 9840055491 or email [email protected] - anytime. We can also customize this trek to meet your requirements.