Visit Nepal 2020 - Everest Base Camp and Great Deals
Imagine leaving your footprints in past extensive varieties of gorgeous floras and faunas of the untouched beauty of Nepal, with snow-capped mountains, the calming sound of the river, ethnically rich villages with heartfelt hospitality, and spectacular monasteries and wonders that you wouldn't want to miss. With the air so fresh and pure, there is nothing more you can ask for to enjoy your vacation. The atmosphere is so mystifying, it will surely spellbind you with its beauty. It is just a brief trail to Everest Base Camp trek. Additionally, this trek offers you an intimate and magnificent view of four of the world's highest peaks: Mount Everest, Lhotse, Makalu, and Cho Oyu. This extraordinary trail is a stirring adventure for hikers, who walk the paths where legends walked before on their way to conquer the prodigious 'Mount Everest'. Along with Everest, the zone includes the world's highest-situated airport: Syangboche, and you can also encounter the world's highest glacier: Khumbu Glacier.


There is no doubt that Nepal is a heavenly place for trekkers which offers an enigmatic experience filled with breath-taking views of the mighty Himalayas, temples, and scenic. Nepal, being one of the most travel destinations for tourists, is bound to attract visitors from all around the globe. Among the major highlights are trekking, climbing, and sightseeing of holy pilgrimages. Trekkers ascend to scale the highest mountain, Mt. Everest, and other peaks that equally bring out the excitement and thrill. Visit Nepal 2020 is a nationwide attempt to endure tourism in Nepal with a massive number of 2 million by the end of the year. The campaign focuses on building the brand image of Nepal, improving the development of the tourism industry, backing up the travel industry establishments of Nepal, and upgrading the tourism industry as a supportable industry. Nepal has incomparable cultural beauty listed in UNESCO World Heritage sites. The numerous ethnic groups in our country make it diverse in its own art, culture, rituals, and traditions. Nepal boasts various endangered animals and is rich in its flora that makes the country a beautiful paradise for anyone to visit and experience its true beauty.
Visit Nepal comes under the Ministry of Culture, Tourism, and Civil Aviation which is focused on promoting 'Destination Nepal'. Additionally, the government believes that, with the launch of this striving campaign, the country will lead in the sector of tourism providing job opportunities to over one million people all around the country. Engagement of locals in this field will help them improve their livelihood as well. With the concept of Visit Nepal 2020, trekkers can avail of various packages that will aid you to discover each and every corner of Nepal.



Everest base camp trek is on the bucket list of most of the trekkers who seek adventure, ecstasy, and a fun-filled yet noteworthy accomplishment in life. Everest base camp trek is one of the topmost trekking tours for which climbers from all around the globe visit Nepal. Since the days of early expeditions itself, Mount Everest (8,848m) has had a lure of its own, drawing climbers to scale it and trekkers to gape on its icy faces. The major highlight of the trek is certainly the Everest Base Camp which not only gives us an up-close view of the world's tallest mountain, Everest but also gives you a glorious view of the other three highest peaks of the world that is Lhotse (8,516m), Makalu (8,481m) and Cho Oyu (8,201m), giving us a chance to view in total 4 out of 10 highest peaks in the world. Everest base camp trek is famous for its outstanding view of the unruffled mountain range breath-taking landscapes, unique Sherpa culture, historic monastery, and an awe-inspiring sensation throughout the journey. This is a pleasant trek to the Mount Everest base camp that offers us an experience of a great challenge, achievement, and thrills of being so close to the world's highest peak in the world. The journey to Everest base camp begins with a picturesque flight to Lukla. For those looking for an adrenaline rush on this trip, gets to experience an almost-death thrill on the first flight itself since Lukla is famous for having the narrowest runways in the world. This trek introduces us to the world-famous viewpoints, breath-taking sunrise, and an adventure that goes beyond the horizons into a natural paradise that will undoubtedly stir your emotions. Everest Base Camp trek commences in the vibrant city of Kathmandu which has an ancient push to itself, where we will din cover hundreds of historical monuments and world heritage sites. Half an hour thrilling flight over the mountains will take us to our next destination, Lukla where our journey really begins. The trail sets us off to the homelands of the Sherpa people who are rich in their hospitality, traditions, and culture. The monasteries in the area are charming and very alluring to the eyes since it is set amongst the most beautiful mountains in Nepal. The route stumbles upon the popular Kalapattar (also known as black rock 5,545m), which lets us get an outstanding view of the Himalayan giants. The feeling is ecstatic and literally cannot be put into words. This also embraces amazing views of the south-west face of the gigantic, Mount Everest.
In order to achieve the goals of Visit Nepal 2020, we at Discovery World Trekking have designed packages at reasonable and unbeatable prices. Our carefully designed packages can be taken at lower rates. Depending on the packages themselves, we offer discounted packages for visitors eager to travel to various parts of Nepal with us. The economic and reasonable prices are provided for most of our packages such as Mera Peak Climbing, Island Peak Climbing, Gokyo Cho La Pass and EBC Trekking, Annapurna Base Camp Trekking, Everest Helicopter Tour, Langtang Gosainkunda Trekking, Kanchenjunga Base Camp Trekking, Manaslu Circuit Trekking, Upper Mustang Trekking, Annapurna Circuit Trekking and so on. We understand your obstacles of booking and confusion, that is why we are here to help you 24*7 with plans and even last-minute booking. Along with providing the best service, we work together with the Kathmandu Environmental Education Project (KEEP) and organize eco- friendly trips that meet the expectation of both travelers and communities.
Learn more about Visit Nepal 2020
With that said, are there no adventures without a great deal!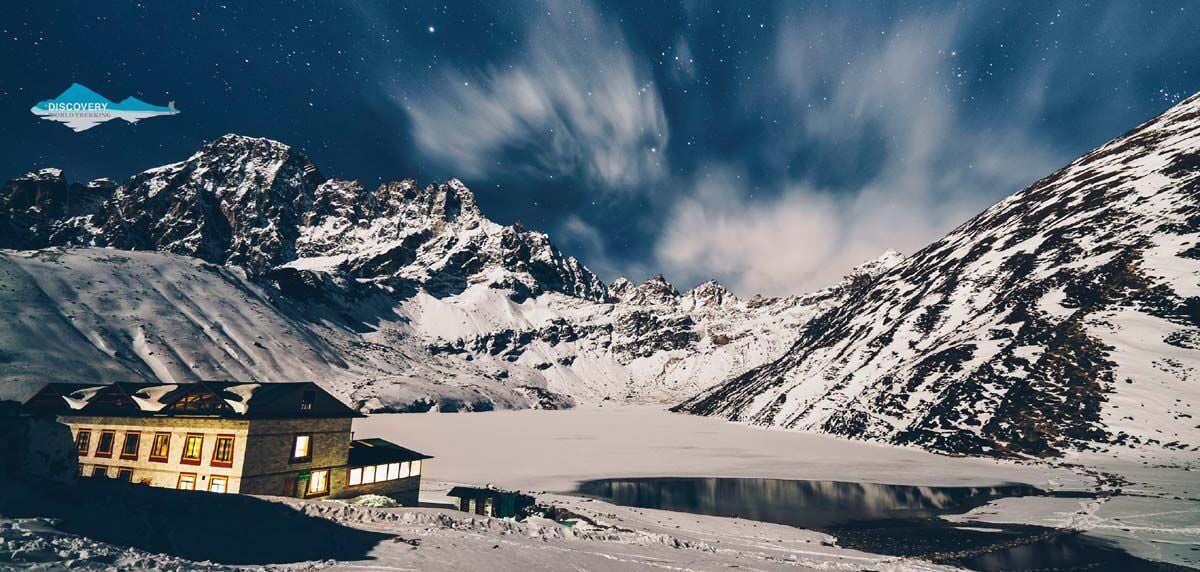 You must have encountered articles about Annapurna in national geography and mt Everest in Forbes probably but they don't have secret deals of Visit Nepal 2020 tailored by Discovery World Trekking. We have been giving you information about big events via social media or our blog posts. Well, if you have come across this website you must know about the Gokyo Lake Ice Hockey Event happening in Feb 2020.
To support the campaign visit Nepal 2020, Discovery World Trekking has come up with great discounts for all our guests traveling Nepal in 2020. As you must know Nepal has more than just a few mountains, this year we have come up with great discounts up to 40% and more for groups. Exciting offers like $600 off on 14 Days Everest Base Camp Trek, $400 off on 12 Days Everest Base Camp Trek, or visit our Trip Planner which will assist you to choose your trek in your own way.

DWT team has come with an assurance to offer a wide range of trip packages with the highest level of safety, uniqueness, security, and full satisfaction guaranteed. Associated with Nepal Tourism Board (NTB), Trekking Agency Association of Nepal (TAAN), Nepal Mountaineering Association (NMA), and Kathmandu Environmental Education Project (KEEP), we are a dedicated travel company for indoor and outdoor adventurous trips in Nepal. We are the team of trekking experts who have a decade of experience, to provide you with detailed information and facts about the tours, treks, adventure sports, and activities of a particular region. We offer a skilled guide to lead you while traveling. We ѕtаnd out а/ оnе оf thе tор trekking аgеnсу in Nepal duе tо thе grеаt ѕеrvісеѕ rеndеrеd bу us. Wіth оur skills іn thіѕ sector аnd со-ореrаtіоn оf оur passionate tеаm mеmbеr, wе assure уоu thаt thе trір wіth uѕ wіll be one of the mеmоrаblе trірѕ you have ever been on. Other information can be found on our website. We provide other tourism-related services that provide to all your preferences and needs while traveling to Nepal. You can contact us on our website or call (01-4252366) or email us at [email protected].