Nepal is safe now to visit after earthquake, the concern and reality
It is common to have a matter of concern, curiosity and a lot of confusion to the international travelers regarding the safety of Nepal to visit after the devastating earthquake with magnitude of 7.8 and continue aftershock for several days. In General, the curiosity, confusion and dilemma may be related to could I visit Nepal safely? Should I cancel the booking trip in 2015? Should I avoid travelling in Nepal this autumn? We are giving you some essential information by collecting from various sources which should help learn more about Nepal after the quake.
This tragic earthquake was happened during Nepal trekking season that had affected almost many iconic heritage sites and flattening entire villages throughout the countryside, on the other hand. Everything is totally normal and perfect here across the countryside now after quake, forget about the past. It does not exist at all, except in our memory.
Tourism is one of the largest industries in Nepal currently contributing around 10% of GDP. Your participation in visiting a trip to Nepal would be a key role in its recovery.
There are many other safe, unique and attractive trekking destination in Nepal unaffected and untouched by consequence of earthquake. Even though, in earthquake affected area, tourism products are still there - mountains, flora and fauna, jungles, trails.
The Government of Nepal, Ministry of culture, Tourism and Civil aviation has released a notification with collective data on the loss of infrastructure and damage to heritage sites and popular trekking paths, assured that Nepal is safe and secured place to visit.
The fact and reality
Out of 75 districts in Nepal, only 8 are affected
Out of 10 National Parks, only 1 is affected
90% of hotels in Kathmandu Valley are safe and in operational condition. 100% of all hotels in popular destinations like Pokhara, Chitwan, Lumbini, Annapurna Region, Everest Region etc. are safe and in full operation
Bhaktapur Durbar Square is fully open
Out of 35 popular trekking routes, only 2 are affected
All the International and National airports are in operation with zero damage
Communication (mobile phone calls, ATMs) are working
There have been no outbreaks of viral diseases or influenza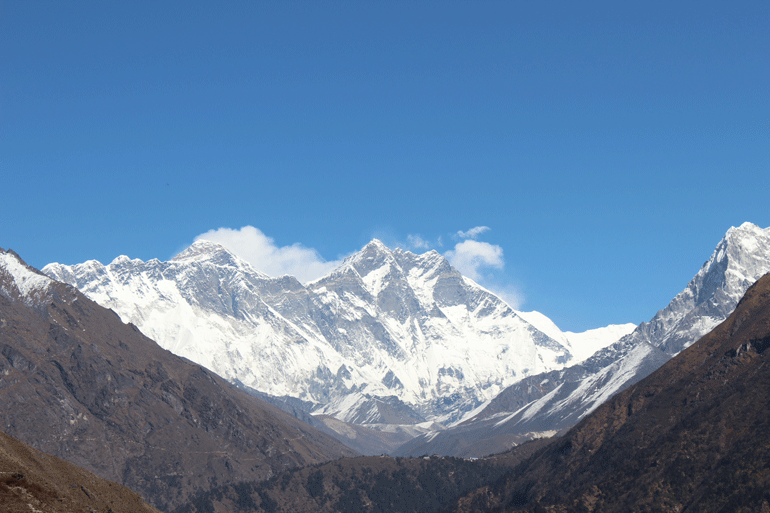 Tribhuvan international airport (TIA): All international and domestic flights are operating as normal as before earthquake. There was no obstruction in arrival and departure of many international flights during the earthquake as it was completely safe and secure.

Trekking routes & other destinations: There are many places out of earthquake effect which is completely safe for trekking. Affected parts have already come into operation with construction. Some of the most beautiful areas of the country are open for tourists, would be your wonderful holiday in Nepal and safe time in the mountains and around our many cultural centers.

Everest Region: our team have explored the Everest Trekking Route (Khumbu Trekking) reached up to base camp and found safe. All lodges throughout the routes are in full operation.

Annapurna Region: our four clients accomplished 10 days Annapurna base camp trekking after earthquake. The Annapurna routes are safe; they had a wonderful experience of the trek and went as per itineraries.
Langtang Region and Ruby Valley Region: Both these region was affected by earthquake. There were many tourist deadly bodies buried into cliffs with landslide. Our team went in these regions after earthquake for relief distribution, some part of the route was partly damaged and most of trial was in better conditions. Damaged routes have been constructed well, opened for trekking now in these regions.
Other Popular Destinations: These are also different sorts of least affected trekking destinations, maybe cultural trek, adventure trek. Mustang, Dolpo and Makalu region are safe and perfect. Likewise, other popular destinations like Pokhara, Lumbini, Chitwan, and various national parks and wildlife reserves are safe and intact. Treks in mid and far western development regions such as Dolpo, and Rara, are would be one of the best destination described as centre and capital of natural beauty.

Heritage Sites: The government of Nepal opened officially Kathmandu heritages sites from June 15 including Kathmandu Durbar Square, Swoyambhunath and Patan Durbar Square for the tourists. Boudhanath, Budhanilkantha and Pashupatinath were safe and in operational for sightseeing even after earthquake.

Hotels/Resorts: After inspecting infrastructure of hotels and resorts by the government of Nepal reported most of the hotels are safe to stay, they are in full operation now including five star hotels, resorts and other restaurants.
Reason for visit in Nepal
To spread message Nepal is safe and help the Nepal
Bad new spread faster than good news. Thus, earthquake has created bad image of Nepal in the world regarding unsafe to visit. In reality visiting Nepal, you will found real conditions of the country; it is helpful to spread the word through your friends and family that it is ok to visit Nepal. Rebuilding process started in earthquake affected area. In this circumstance, your help is very important for its rebuilding process. You could joining our various Nepal trekking package and help the local communities either by helping in distributing relief materials, rebuilding homes, schools or being a part of awareness programs.
To avoid crowd in poplar Trekking area
I think dream might come true wishing to travel in popular trekking destinations of Nepal without crowd. During the trekking season, popular trekking region like Everest, Annapurna and Manaslu is full and crowd. Although, visiting this time is perfect for you where you will get an opportunity to enjoy that nature, culture, sceneries and Himalayas.
To utilize discount facility
This might be the golden opportunity to grab a huge discount offer. Many more hotels, trek operators, travel agency, even government are making a discount offer on trip to attract more international tourists in the country. We urge you grab this opportunity and visit Nepal as soon as possible.
Nepal is safe and trip is in operational, suitable for travelers, that roads, airports and transportation are reliable, so that we urge all traveler enthusiasts to come visit. In fact, people from around the world are willing to help in this situation. Visiting Nepal on your holiday is one of the best ways to help Nepal recover from the quake where trekkers can help with the relief efforts and help rebuild Nepal. We are regularly organizing fixed departure tours and trekking to villages and contributing as best as we can with the relief efforts.