A Detailed Guide for Everest Base Camp Trek
Perhaps everyone knows mount Everest (8,848m) as the world's highest mountain. Everest has been capturing the interest of nature lovers, trekkers, and explorers since Edmund Hillary and Tenzing Norgay Sherpa summitted this mountain in 1953 A.D. However, some theories state that George Mallory and Andrew Irvine might have scaled Everest in 1924 - almost three decades before Tenzing and Edmund.
Everest is the tallest mountain in the Himalayan range, the youngest mountain range. Scientists believe that Everest is growing on average 4mm per year. As a part of the Himalayan range, Everest sits surrounded by very tall mountains - including Lhotse (8,516 m), Makalu (8,463 m), Cho Oyu (8,201 m), Khumbutse (6,665 m), and Nuptse (7,861 m). The whole region elevates rapidly, so trekkers need to acclimatize on their way to Everest Base Camp.
The Nepali name for Everest is Sagarmatha, which means - "Goddess of the sky." The Tibetan name is Chomolungma, meaning " Mother goddess of the world."
Everest Base Camp (5,364 m) is the preparation point for those who want to climb Everest. It is the highest point that most trekkers aim for unless they want to climb Everest peak. There are no accommodations at Everest Base Camp. So if you want to stay near Everest, your nearest option is Gorak Shep.
Everest Region
The Everest region lies in the northeastern part of Nepal in the Solukhumbu District. Everest itself lies inside Sagarmatha National Park - a UNESCO World Heritage Site. The largest town in the Everest region, also called the Khumbu region, is Namche Bazaar - often referred to as the gateway to Everest. Namche also falls inside the Sagarmatha National Park. Namche is a Sherpa town.
Everest region (Khumbu region) is home to many natural wonders. Due to the high peaks surrounding Everest, there are numerous high passes located in the vicinity of Everest. The three most popular high passes are - Renjo La Pass (5,360 m), Cho La Pass (5,420 m), and Kongma La Pass (5,535 m).
And there are the magnificent Gokyo Lakes - at altitudes ranging from 4,700 to 5,000m, that form the world's highest freshwater lakes. The beauty of Gokyo lakes is beyond description.
Best time for Everest Base Camp trek
People travel to Everest Base Camp throughout the year. However, the treks are easier in certain seasons than in others. Spring (March-May) and autumn (September-November) treks are easier, as the skies are clear, the temperature is just right, and the views are outstanding.
The summer in Nepal (June- August) coincides with the monsoon, so the trails are often wet and slippery. Trek regions under 3,500m get heavy rain and the days can be cloudy. However, these challenges excite a different breed of trekkers who enjoy the fierce rivers and fantastic waterfall views.
Pheriche - 4,371 M
The winter(December - February) brings heavy snowfall in the high altitudes of the trails. The cold might make the trek quite challenging, but thrill-seekers and professional trekkers trek to Everest Base Camp during winter.
If you are determined to trek to Everest Base Camp in any season, you can consider helicopter tours. The helicopter tour will provide you with a bird's eye view of the entire Everest region. There is not much trekking involved, and almost anyone can do it.
Everest Region Trek Highlights
Scenic flight to Lukla

Three high passes (Kongma La, Cho La & Renjo La)

Namche Bazaar - the gateway to Everest

Nepal's highest airport at Syangboche

Oligotrophic Gokyo lakes

High altitude mountains - Lhotse (8,516 m), Makalu (8,463 m), Cho Oyu (8,201 m), Khumbutse (6,665 m), and Nuptse (7,861 m).

Stunning views from Gokyo Ri

Everest Hotel - one of the highest situated hotels in the world

Khumjung monastery - said to have housed yeti-scalp

UNESCO World Heritage Site - Sagarmatha National Park

Prayer wheels, colorful flags, mani stones, high suspension bridges

The wide range of flora and fauna

Wildlife like musk deer, colorful pheasants, snow leopard, and Himalayan tahr

High altitude settlements and the way of life

Highest glacier on Earth- The Khumbu Glacier (4900m)

Amazing panoramic views from Kala Patthar (5,555m) viewpoint
Trekking Grade
Most regular treks to Everest Base Camp are quite challenging. But then, you can choose helicopter treks that involve minimum time on the trails. And, you can make your EBC treks more challenging by including three passes. Of course, you can include only two or even one major pass.
The highest point for most Everest Treks is Kala Patthar (5,555m), from where you can get fantastic views of dawn breaking behind Everest and other nearby mountains.
Trekking at high elevations is exhaustive, and you need to be prepared to walk for five or six hours. There are steep ascents, descents, and straightforward routes involved.
However, if you just want to see Mount Everest, Everest View Trek is suitable. Helicopter tours to EBC are also easy and comfortable.
Possible treks
Everest region provides many trek possibilities. There are various trek variations. The classic Everest trek starts from Lukla and progresses through Namche, Tangboche, Lobuche, Gorakshep, and finally to Everest Base Camp. The duration of the EBC treks varies based on the route you take and the venues you visit. It also depends on the mode of transport you take.
Here are some of the EBC trek choices.
1. Classic Everest Base Camp Trek
The classic EBC trek is a fourteen-day-long trek, with two days of acclimatization at Namche and Dingboche.
2. Everest Base Camp Trek with Kathmandu Valley sight-seeing
This EBC trek takes 17 days to complete, but it allows trekkers to familiarize themselves with Nepali culture and tradition in Kathmandu on top of trekking to EBC.
3. Short Everest Base Camp Trek
If you are bold, in good physique, but are short on time, you can book this trek. This is a shortened form of Classic Everest Trek.
Namche Bazaar - 3,440 M
4. Everest Base Camp with Gokyo Lakes
It is another fantastic trek choice, where you will get to enjoy the stunning high-altitude freshwater lakes in addition to Everest Base Camp and two major passes.
5. Everest Base Camp treks with high passes
For those who love crossing high passes, the 15-day Everest High passes trek is perfect. You will get to rejoice in high-altitude thrills. There is another option of conquering all three high passes in the Everest region. It is very challenging, but it lets you appreciate the whole of the Everest region.
6. Everest Base Camp helicopter tours
For those who do not want to toil hard on the trails but still want to appreciate Everest Base Camp and see the views from the top, there are helicopter tours. Based on how much time you have, you have two options - one that lasts for ten days and the other that lasts for five days.
Preparing yourself
Everest Base Camp treks are demanding. Though a normally healthy person can complete this trek, the fitter you are, the more you will enjoy your trek. So, we suggest you to take part in stamina-building exercises a few weeks before your trek. You can swim, cycle or jog. It is also a good idea to take part in short hikes that last for six to eight hours.
Since Everest Base Camp treks take place in high altitudes, you also need to take appropriate clothes, footwear, and other accessories. Do not forget to take a good camera as you will be witnessing the most extreme and exciting high-altitude terrain, which you may want to capture in your camera. And, of course, you have to take your cell phone. You can recharge your electronic equipment in the lodges you will be staying in.
Insurance
Everest Base Camp treks are high elevation hikes that come with risks of high altitude treks, including altitude sickness. So, adequate insurance is a must. While buying your insurance policy, make sure that your health insurance covers heli-evacuation at altitudes up to 6,000m. It is important because the road infrastructure in the Everest region is not well developed.
We advise you to call your insurance provider and confirm that they cover heli-rescue at altitudes up to 6,000m. Please do not just rely on what the insurance companies say on their website.
If you need help to choose the insurance company, we can recommend insurance companies based on our clients' previous experience.
Luggage
You will need to take a flight to reach Lukla from Kathmandu. Your flight luggage weight limit is 10kg, and you can hand-carry another 5kg. So, your total comes to 15kg.
During the trek, porters will carry most of your luggage. However, you will have luggage limits. You can only bring 9kg of your luggage on the trek. Two trekkers will share a porter, and a porter will not carry more than 18kg of weight. However, if you want, you can hire one porter for yourself.
Porters play a great role in making your trek comfortable and easier. So, it is normal for them to expect tips. Nepali culture accepts tipping. However, tipping is at the traveler's discretion. We believe tipping should reflect the quality of service received, the length of the trek, and the cost of the trip. We advise you to tip at the end of your trek and tip as a group.
Please bring only the most essential things to the trek. The exact things you need to pack will differ according to your tastes and the trekking season. Moreover, we expect you to carry a small backpack with you. It ensures that your important documents like your passport or valuables are safe with you.
Spending money
Most packages cover major costs while on the trails. However, you will need spending money. Your best option is to bring major currencies (like USD, Euro, GBP) and exchange them in Kathmandu. If you bring a traveler's cheque, you will need to go through a lengthy banking process and pay higher commissions.
Money exchange in Kathmandu is hassle-free and quick. Most legal exchanges display their exchange rates visibly. Currently, 1 USD is equal to 120 Rupees. You can also choose to withdraw Nepali Rupees from the ATMs in Kathmandu using your credit/debit cards. However, the withdrawal amount limit is Rs.35,000 for a fee of Rs. 500.
You will need money for accommodations and meals in Kathmandu, equipment purchases, beverages (hot, cold, and alcoholic drinks), souvenirs, snacks, battery recharge, hot showers, and tips for the crew. We estimate that you will need USD 10 to 20 per day for personal spending during the trek.
There are no money exchanges in trek regions, and only Nepali Rupee is honored in these regions.
Visa
Most nationals get an on-arrival visa at Tribhuvan International Airport or immigration checkpoints along the Nepali borders. You will need a passport valid for at least six months, a passport-size photo, and visa application fees to apply for a visa. Currently, you will need USD 50 for a 30-day stay.
Nepal's government can change the visa rules without notice, so to find the latest information, please visit https://www.immigration.gov.np/.
Indian nationals do not need a visa to enter Nepal. Similarly, citizens from China and SAARC (Bangladesh, Bhutan, Maldives, Pakistan, Sri Lanka) countries are entitled to free visas. However, the free visa for SAARC citizens is limited to 30 days in a visa year.
Children under the age of 10 receive a free visa.
Getting there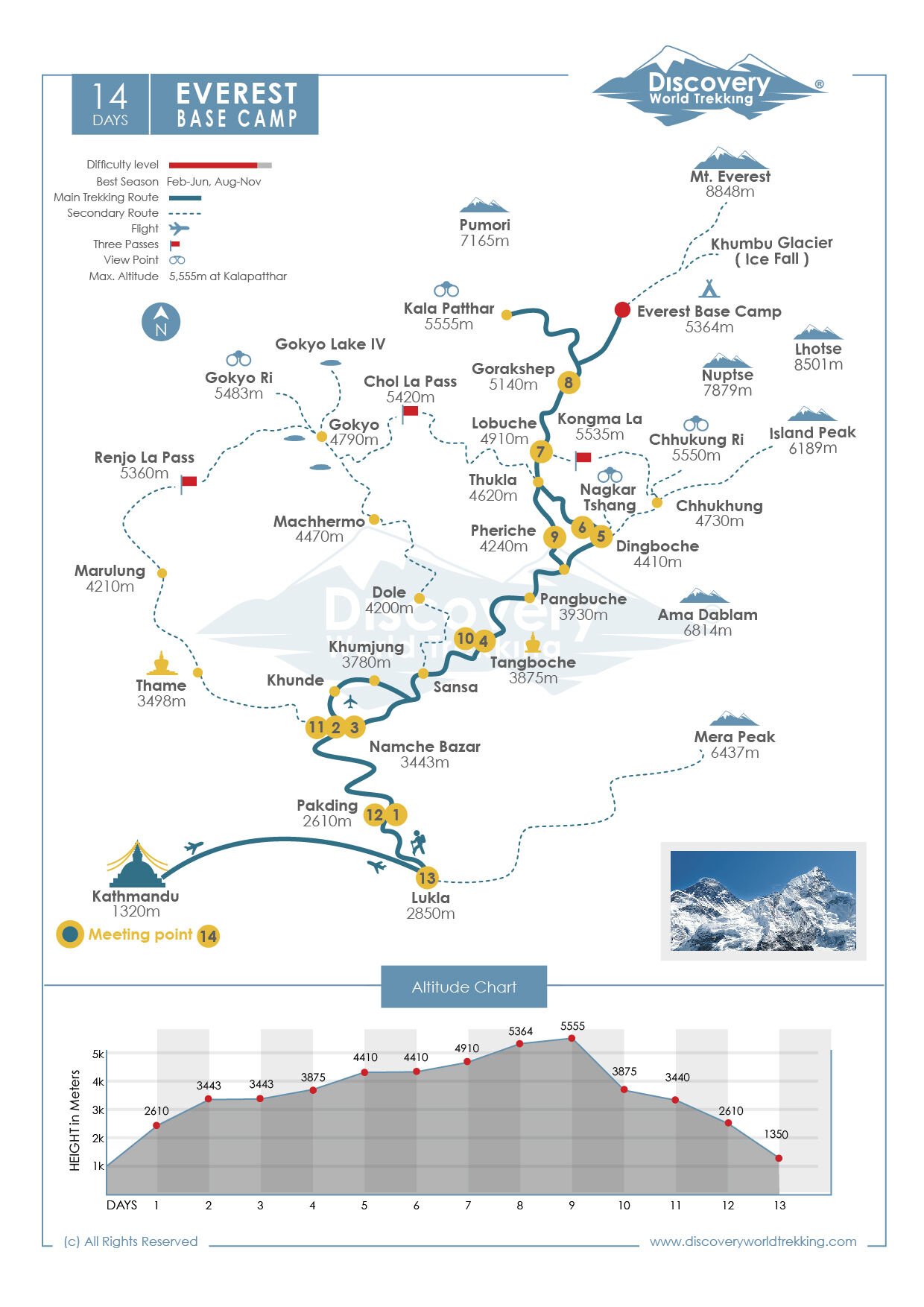 Mount Everest lies in Nepal, and the easiest way to enter Nepal is by taking a flight to Kathmandu. You will land at Kathmandu International Airport. We understand that you might find it hard to navigate in a new country. For this reason, our representative will be at the airport holding a pamphlet with your name on it. They will welcome you and then present a garland as a welcome gesture. Then, they will take you to your hotel in a private vehicle.
We provide free airport pick up and drop service. Kathmandu has all types of hotels/lodges that suit all tastes and budgets. You can book several of these hotels online.
Tenzing–Hillary Airport ; Lukla - 2,846 M
We expect you to arrive by 3 pm, at least one day earlier than the trek departure day. This provides time for you to take part in the trip briefing. During the trip briefing, we will provide you with vital information about the trek, such as weather conditions, what to expect, etc. Moreover, during the briefing, we will go through your luggage to ensure you have not missed packing the required things. In case you missed something, we will try to arrange those things for you.
On your trek departure date, we will take you to the Tribhuvan International Airport for a flight to Lukla. Lukla is the only functional domestic airport in the Everest/Khumbu region. There is another airport at Syangboche, but it is not in operation. Our trek packages include Kathmandu-Lukla-Kathmandu flights.
Permits & entrance fees
Our packages include required permits and entrance fees. You will require two permits - Sagarmatha National Park Permit and Khumbu Pasang Lhamu Rural Municipality fees on your way to Everest Base Camp. The cost of the Sagarmatha National Park Permit per person for foreigners except SAARC citizens is Rs. 3,000 (~USD 27). Similarly, the entry permit for Khumbu Pasang Lhamu Rural Municipality costs Rs. 2,000 (~USD 16). Trekkers can buy Sagarmatha National Park Entry Permit at Nepal Tourism Board in Kathmandu or at Monjo - the entry point of Sagarmatha National Park.
Language
Though Nepali is the national language, a sizeable population knows English. Moreover, our trek guides can speak fluent English, Japanese, and Spanish, so you will not need to confront language barriers.
Remaining in contact
You can use Wi-Fi at lodges/teahouses/cafes in trek regions by paying a small service charge. There is another option - you can buy a local sim in Kathmandu and use it in trek regions, but please keep in mind that the signal strength at high altitudes may not be strong enough. Trek regions have electricity, so you do not need to worry about recharging your phone or other electronic devices. Again, you might need to pay for electricity.
Food & water
Everest treks are very intensive and physically demanding. So you will need enough nutritious food. You will be having meals at the best restaurants/lodges/teahouses that we have hand-selected. The menu consists of traditional, western, and Asian items. You will get plenty of food options, but as you climb up, your choices will be limited. The food also gets more expensive with altitude. Nevertheless, you will have plenty of hygenic, tasty, and nutrient-rich food.
In the case of water, we advise you against drinking water from taps, wells, and rivers in trek regions because the water might not be potable. However, you can buy bottled mineral water from the en-route shops/tea houses. But still, some trek regions will not allow you to take plastic bottles, so we advise you to take a water bottle. You can put mineral water in your water bottle or even buy boiled water from lodges and put it in your water bottle. If you require, we can provide you with water purification pills as well.
Accommodations
In Kathmandu, you can stay in accommodations that suit your tastes and budget. It is entirely up to you where you stay. In trek regions, you will be staying in standard and comfortable tea houses/hotels/lodges. You will be staying in rooms with an attached bathroom, wherever possible, and standard rooms at other places. All rooms are on a twin-sharing basis.
If you prefer luxury, we also provide a Luxury Everest Base Camp trek, where you will be staying in the best possible hotel in the trek region as much as possible.
Staying Safe
Treks at high elevations come with some inherent risks. This is why our guides have completed intensive wilderness first aid training. We carry medical kits and other equipment to face any situation. Moreover, we use oximeters to constantly monitor blood oxygen saturation at high altitudes to detect health anomalies.
Altitude sickness is a common challenge for Everest Base Camp treks. For this reason, you should not skip acclimatization, as it takes time for your body to get used to thin air.
You must not ignore the signs of altitude sickness because severe altitude sickness requires immediate treatment. In such cases, we deploy helicopters to bring you back to safety (funded by insurance).
Here are the signs of altitude sickness.
Headache

Nausea and vomiting

Appetite loss

Tiredness and dizziness

Difficulty in sleeping

Increased heart rate and shortness of breath
If you become aware of any of these symptoms, you must inform your guide.
However, there are ways to avoid altitude sickness. They are:
Do not skip acclimatization days

Drink at least 4 liters of water per day

Take plenty of rest after a daily hike

Take enough food during trekking

Keep your body warm

Drink garlic soup
Since our crew comes from remote high Himalayas, they are completely at comfort at high elevations and ready to help you in case of any unease.
Being cared
We know that it is difficult to navigate in a foreign country. So, we take care of you- right from the moment you arrive at the Tribhuvan International Airport - until your departure. If you need any help, you can contact us at any time. We do not want you to feel alone and helpless in a new country. If you are trekking with us, you are a part of our global family, where we care for each other.
Finally,
We believe you now have complete information that should satisfy your need to know while choosing Everest Base Camp treks. Here are your trek options.
If you need more information, call/Viber/WhatsApp us at 977- 9840055491 or email info@discoveryworldtrekking - anytime.