Ten Most Challenging Treks in Nepal
Thanks to its terrain. Nepal is home to some of the finest treks in the world. As the Nepali terrain elevation changes from 70m at Kachna Kewal to 8,848m at Mt.Everest peak, trekking opportunities in Nepal are abundant and endless.
Hundreds of trek possibilities exist in Nepal, and these treks vary in intensity, duration, and difficulty level. No, all treks are not equal. Even the same trek experience in one season is different than another season. Trekkers have their own preferences - based on their interests, tastes, and budget. Often, different age groups choose different treks.
If you are a thrill-seeker who requires that extra kick, we recommend the following challenging treks. To complete these treks, you need to be fit, need tons of determination, and willingness to travel in extreme landscapes. You need to be ready to walk for six to eight hours a day at a decent pace. Of course, you will be taking small breaks here and there for lunch or savoring the beauty of the landscapes along the trails.
1. Everest 3 Passes
Mt. Everest region, home to the world's highest mountain, is one of the most popular trek destinations. Everest lies in northeastern Nepal and sits surrounded by dozens of high Himalayas. Hence, it is no surprise that the Everest region provides dozens of different trek options, most of which hold Everest Base Camp as the primary destination.
Most Everest treks start with a flight to Lukla. From Lukla, most hikes reach Phakding and then to Namche Bazaar - the gateway to Everest. From Namche Bazaar, the trails often differ based on the trek package. The classic Everest trek continues north from Namche to Tangboche, Dingboche, Lobuche, and Gorakshep, finally reaching Everest Base Camp.
However, the Everest Three Passes Trek trail differs from the Everest Base Camp trek from Namche. The path takes you across Renjo La Pass (5,360m) to Gokyo and further To Dzongla, passing Chol La Pass (5,420m) before joining the classic Everest trek at Lobuche. After reaching the Everest Base Camp, as you return, the Three Passes trek will take you across Kongma La Pass (5,535m) to Chhukung and eventually to Namche.
Challenges:
Reaching Everest Base Camp (5,364m) or Kala Patthar (5,555m) is hard, to say the least. In addition, the three above five thousand passes - Renjo La, Cho La, and Kongma La - make the trek very challenging.
Reasons to trek:
If you want to see the Everest region and not just the Everest Base Camp, this is the trek for you. On the route, you will be greeted with stunning views of several snowcapped peaks- including Ama Dablam, Everest, and Cho Oyo. You will also see the peaceful Gokyo Lakes that have the power to soothe your soul.
Preparation:
Though the Everest Three Passes trek is challenging, you do not need technical skills. If you are fit and have previous trek experience, you can complete this trek. Discovery World Trekking can organize a safe Three Passes trek should you wish.

2. Upper Dolpo Trek
If you want to experience the true wilderness in far-western Nepal, the Upper Dolpo trek is for you. Dolpo region consists of Shey Phoksundo National Park - Nepal's biggest national park. This trek was closed to visitors until very recently. Even now, the hikes are restricted, so you will need a great guide.
Your journey starts with a flight from Nepalgunj to Juphal (2,320m) - from where the trek begins. You will then need to trek north to reach Shey Phoksundo National Park. After getting to this park, you will join an ancient Nepal-Tibet trade route. This trek also takes you to Phoksundo Lake, full of deep blue freshwater. Due to the proximity of Dolpo to Tibet, the small settlements that you come across look almost Tibetan.
Challenges:
This trek region is very remote, and the trek infrastructure is insufficient. You will need to stay in tents and often bring food with you. Trek can be tough as you need to cross three over 5,000m passes.
Reasons to trek:
If you want to experience true wilderness and observe the traditional ways people live, this trek is for you. Moreover, you will get a chance to appreciate the Tibetan culture, spot rare wildlife, and visit some of the oldest monasteries in Nepal.
Preparation:
You will require substantial physical endurance to complete the trek. So, we advise you to prepare yourself by engaging yourself in cardiovascular exercises. You might also try trekking outdoors while maintaining your pace. You may have to complete as many as 18 kilometers in a day.

3. Nar Phu Valley
Nar Phu Valley trek is also one of the most challenging treks in Nepal due to its wilderness and lack of adequate trek infrastructure. The trails take you to a region between Annapurna and Manaslu.
Nar Phu treks often start from Besisahar - also the starting point of the Annapurna circuit trek. The path is same up to Koto but then the trails turn east to remote Nar and Phu valleys following the Nar Khola River. As you move ahead, you reach Phu Gaon, then return, crossing two Passes to enter Naar.
From Nar, you will be crossing Kang La Pass to reach Ngwala and then to Manang. From Manang, you will be joining the Annapurna circuit. You will pass through Yak Kharka, Tharung Phedi, before crossing the Thorung La Pass to reach the famous Muktinath Temple. Form Muktinath, you will head to Jomsom, then to Tatopani, and finally back to Pokhara.
Challenges:
You have to be ready for long trekking days that involve heavy ascents and descents. The trek infrastructure is insufficient, and you might even feel lonely. Moreover, you will have to pass not one, not two, but four passes above 5000m.
Reasons to trek:
If you want to spend time in the wilderness, far from the hustle and bustle, this trek is perfect for you. This hike lets you experience Tibetan-style villages and people, narrow canyons, and old Gompas. You will also get a chance to catch amazing views of several snow peaks - including Pisang Peak, Himlung Himal, and Annapurna II. If you loved the Annapurna Circuit trek, this trek will enhance your experience.
Preparation:
Like other challenging treks, you need to prepare your body to develop stamina. We recommend you to take part in stamina-building exercises a few weeks before your hike.

4. Manaslu Circuit Trek
Manaslu Circuit trek circumnavigates the world's eighth highest mountain- Manaslu (8,156m). You start from Soti Khola, west of Kathmandu, and finish at Besi Sahar. The trails are remote and off-the-beaten-path, letting you enjoy the Nepali wilderness. However, it is easy to reach the trek region, and it does not involve domestic flights.
From Kathmandu, you need to take a local bus to Soti Khola. From Sotikhola, you will head to MachhaKhola, Doban, Phillim, Ghap, Namrung and to Samaguan. Most treks acclimatize at Samaguan and use this time to visit Birendra Lake, Pungyen Monastery, and Manaslu Base Camp.
From Samgaun, you will head to Samdo, then Dharmsala. Larkya La Pass (5,160m) lies between Dharmsala and Bhimtang. It is a challenging pass, from where you can get the excellent views of Himlung Himal, Cheo Himal, Kang Guru, and Annapurna II. From Bhimtang, you will continue your trek to reach Dharapani. Most Manaslu Treks end at Dharapani, and trekkers take transport back to Kathmandu.
Challenges:
The trek infrastructure is basic, and the uneven, rocky trail may pose a challenge for many. You might catch altitude sickness above 3,000m, so you must acclimatize accordingly. The weather can be another challenge - breezy winds, cold temperatures, and snow covering the trails at high altitudes.
Reasons to trek:
It is a relatively new path where the trails are uncrowded. This trek provides a unique experience. The challenge Larkya La Pass possesses often excites thrill-seekers.
Preparation:
Manaslu trek takes place in a restricted region, so you need a permit. Your trek organizer will generally get the permit for you. We also advise you to hike for about six to eight hours, carrying a backpack, as a way to test your physique. You may also take part in stamina-building exercises such as cycling, swimming, and jogging.

5. Kanchenjunga Trek
Kanchenjunga Trek takes place in the northeastern part of Nepal. This trek is one of the longest popular Nepali treks that circles Mount Kanchenjunga (8,586m) - the world's third-largest mountain. The hike will take you to both south and then to the Kanchenjunga Base Camp in the north. The trek usually begins with a short flight from Kathmandu to Suketar. You will start on the trails from Suketar to Lali Kharka.
First, we will proceed to see the South Kanchanjunga up to Yalung Base Camp. From Lali Kharka, you will be passing Khesewa (2120m), Mamankhe (1920m), Yamphudin (2080m), Chitre (2965m), Tortongn (3010m), Tseram (3870m), Ramche(4580m), Oktang(4730m), and finally to Yalung Base Camp. From Yalung Base Camp, you will see fantastic views of the south side of Kanchenjunga.
Next, this trek takes you to Pangpema (Kanchenjunga north side base camp). From Yanglung, we descend back to Ramche (4580m), Salele, Ghunsa (3475m), Khambachen (4040m), Lhonak(4790m), Pang Pema (5140m), and finally to Kanchenjunga Base Camp (5,100m).
After reaching Kanchenjunga a Base Camp, the return to Suketar begins. From Pangpema, the trek path follows Ghunsa, Amjillassa (2460m), Syakathum (1600m), Chirwa (1200m),
Challenges:
Kanchanjunga treks are long high altitude challenging treks. The trails consist of very steep ascents and descents. You will be crossing several high passes. The trek infrastructure is not well developed, so you might need to arrange food by yourself. Most probably, your trek operator will take care of it.
Reasons to trek:
This challenging trek in the eastern region of Nepal centers around Kanchenjunga - the world's third-largest mountain. The long trek will allow you to enjoy the different terrains and climates. From tropical jungles to rhododendron, oak, and chestnut trees, you will get a complete trek experience, which is hard to get from any other trek.
Preparation:
Kanchenjunga treks are long treks, so you need to start building your stamina a few weeks before the trek starts. You might go for short hikes or build your stamina- by swimming or cycling. We also suggest you use a proper trekking stick. Make sure that you have enough strong porters to carry your luggage. You might also bring food and water with you so that whenever you feel hungry, you have something to eat.

6. Annapurna Circuit With Tilicho Lake Trekking
Annapurna Circuit with Tilicho Lake is one of the remote yet rewarding treks in the Annapurna region, which allows you to enjoy the Himalayan landscape, varied flora, fauna, stunning waterfalls, holy sites, high passes, and deep gorges. Trek to Tilicho Lake makes this trek still more challenging.
This trek starts from Jagat to the north, reaching Chame, then Pisang, and Manang. From Manang, the route deviates from the Annapurna Circuit trek trails. You will be moving to Siri Kharka and reach Tilicho Lake, then rejoin the Annapurna Circuit at Yak Kharka.
Then we move ahead to Thorung Phedi before crossing Thorung La Pass (5,416m) to reach the holy Muktinath temple. From Muktinath, the trails will take you to Tatopani and then Ghorepani. Most trekkers visit the Poon Hill viewpoint at Ghorepani before returning to Pokhara and probably to Kathmandu.
Challenges:
Annapurna Circuit with Tilicho Lake is a high-altitude trek that takes you to an altitude of 5,416m at Thorung La Pass. You will be staying at elevations exceeding 3,000m for more than a week. So, be prepared to face cold weather, possible altitude sickness, and weather uncertainty.
Reasons to trek:
Annapurna Circuit is one of the best long treks that has garnered support from travel authorities like TripAdvisor and Lonely Planet. This trek carries the essence of Nepal, not only in terms of geographic and climatic variations but ethnically as well. Tilicho Lake itself is a very stunning and unique lake that will undoubtedly let you experience nature's beauty at its finest.
Preparation:
We advise you to bring warm wool clothing, power banks, headlights, and toiletries as the trek is quite long. Since you need to be reasonably fit to complete this trek, you should engage in stamina-building exercises - a few weeks before starting on the trail. Choose your trek season - keeping in mind the weather conditions.

7. Upper Mustang Trek
Upper Mustang borders Annapurna Circuit, but due to its location in the rainshadow of the Himalayas, the terrain is desert-like. Due to its long years in isolation, Upper Mustang has its own unique culture, history, and of course, the spectacular views of Mt. Annapurna (8,091), Thorung Peak, Nilgiri (7,061m), Chulu West, Chulu East, Tukuche Peak, Dhaulagiri (8,167m), Lamjung Himal, Annapurna II, and Annapurna IV makes this trek very desirable.
To reach the trek region, you need to fly from Kathmandu to Pokhara, and to Jomsom. From Jomsom, you will be trekking to Kagbeni, Chele, Samar, Ghami, Tsarang, and then to Lo-Mangthang. Lo - Manthang was the walled capital of the ancient Kingdom of Lo. You can enjoy the unique terrain and lose yourself in the Tibetan religion and traditions.
Challenges:
The Upper Mustang trek takes place in remote parts, far from the luxury that you might get in other trek regions. You should consider the trek weather carefully. In winter, the path to the upper Mustang gets drowned by heavy snowfall.
Reasons to trek:
The views of the Upper Mustang are unlike what you will see in other Nepali treks. The red cliffs and the grey rolling hills that you find here are so stunning that you will probably never forget these landscapes in your entire life.
Due to the remoteness of the Upper Mustang, it preserves the unique tradition and culture that you cannot find in any other treks. Similarly, the terrain looks entirely different from other parts of Nepal. In addition, you will also get great views of Mt. Annapurna (8,091), Thorung Peak, Nilgiri (7,061m), Chulu West, Chulu East, Tukuche Peak, Dhaulagiri (8,167m), Lamjung Himal, Annapurna II, and Annapurna IV.
Preparation:
You need to choose your trek paying close attention to the weather you are trekking. We advise you to perform cardiovascular exercises a few weeks before your trek starts.

8. Ganesh Himal Trek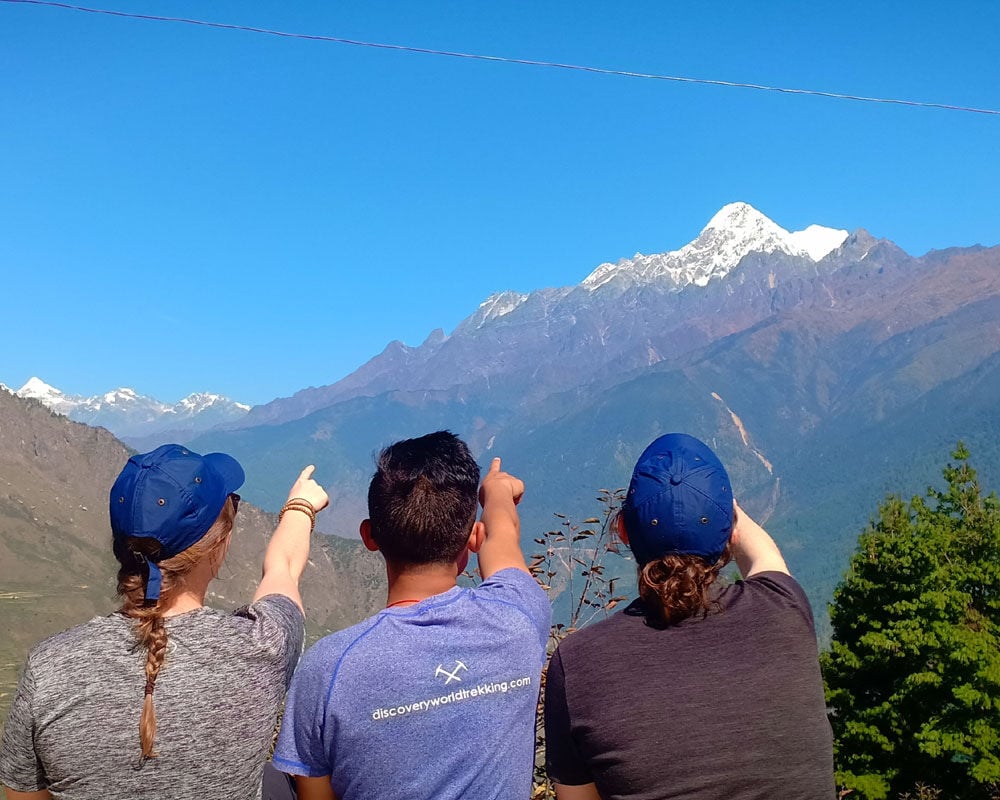 The Ganesh Himal Trek is a remarkable adventure that takes you through the enchanting Ganesh Himal region, named after the elephant-headed Hindu deity, Lord Ganesh in the central part of Nepal.
The trek begins with a scenic drive from Kathmandu to Syabrubesi, a small village located at the gateway of the Ganesh Himal region. From there, you will embark on your trekking journey, immersing yourself in the stunning landscapes and cultural treasures that await.
As you ascend, you'll traverse through lush green forests, terraced fields, and charming traditional villages. The trail gradually leads you to higher altitudes, where you'll be greeted by magnificent views of snow-capped peaks, including Ganesh Himal, Langtang Lirung, and Manaslu.
The trek usually takes around 10-17 days, depending on the itinerary and pace. The highest point reached during the trek is the Pangsang Pass (3,842 meters), which offers panoramic views of the Ganesh Himal range and the surrounding valleys.
Challenges:
As you ascend to higher altitudes, the air becomes thinner, and the oxygen levels decrease and this can exhaust you. You will traverse various terrains, including steep ascents, descents, rocky paths, and narrow trails. Some sections may be challenging and require good physical fitness, balance, and sturdy footwear. Additionally, weather conditions can impact trail conditions, with rain or snow making certain parts slippery or muddy. The trek regions are remote and long days of walking can be tough.
Reasons to trek:
It is one of the rare and unspoiled off-the-beaten-path where you can enjoy the tranquil environment while enjoying the breathtaking mountain views. The trails pass through typical ethnic villages allowing you to observe different cultures and traditions.
Link: https://www.discoveryworldtrekking.com/trips/ganesh-himal-trek-19-days


9. Everest High Passes Trek (2 passes)
The Everest High Passes Trek is renowned for its exhilarating experience in the Everest region and takes you through two high passes: Ranjo La Pass and Cho La Pass. It is a must-do adventure for those seeking thrills while enjoying breathtaking views of the Himalayas.
This trek not only offers the majestic beauty of snow-capped mountains but also treats you to stunning turquoise lakes, mesmerizing glaciers, vast moraines, and awe-inspiring landscapes.
The diversity of the scenery is truly remarkable. The trail diverges from the well-trodden path of Khumbu, leading you to secluded and less-explored high passes. Throughout the journey, you can take your time to soak in the magnificence of the towering mountains, savoring each step in this high-altitude terrain.
Challenges:
Trekking to Everest Base Camp while crossing Ranjo La Pass and Cho La Pass presents trekkers with a multitude of challenges in one exhilarating journey. The high altitude is a constant obstacle, requiring proper acclimatization. The terrain is demanding, with steep ascents and descents, icy trails, and rocky paths, demanding physical strength, balance, and sure-footedness. Unpredictable weather conditions add to the difficulty, with snowstorms, high winds, and extreme cold posing risks. Navigating the passes themselves, Ranjo La and Cho La entail steep and icy sections that demand caution and mountaineering skills.
Reasons to trek:
Reaching Everest Base Camp by crossing Cho La and Ranjo La Passes is a truly extraordinary feat that offers trekkers an unparalleled adventure and an unmatched sense of achievement. The journey provides an opportunity to immerse oneself in the pristine and untouched beauty of the Everest region, passing through diverse landscapes of snow-capped peaks, icy glaciers, serene turquoise lakes, and charming Sherpa villages. This unique trekking route not only offers a physical and mental challenge but also allows trekkers to witness the remarkable cultural heritage and warm Sherpa hospitality
Link: https://www.discoveryworldtrekking.com/trips/everest-high-pass-trek


10. Manaslu Tsum Valley Trek
The Manaslu Tsum Valley Trek is a captivating and off-the-beaten-path adventure that combines the awe-inspiring beauty of the Manaslu region with the spiritual influences of the Tsum Valley. This trek takes you to remote trails, quaint villages, and breathtaking landscapes, offering a unique blend of natural splendor and cultural immersion.
The journey circles the eighth-highest mountain in the world, Mount Manaslu. On the way, you'll be treated to panoramic views of majestic peaks, traverse lush forests, cross suspension bridges over roaring rivers, and encounter warm-hearted Gurungs and Tamangs. You will also enrich your experiences with ancient monasteries, chortens, and the chance to witness the authentic Tibetan Buddhist culture. With every step, the Manaslu Tsum Valley Trek promises unforgettable encounters, picturesque vistas, and a deep connection with the mesmerizing Himalayan region.
Challenges:
The Manaslu Tsum Valley Trek presents various challenges throughout its awe-inspiring route. The remote and rugged terrain, including steep ascents and descents, rocky paths, and narrow trails, demands physical stamina, endurance, and balance. The trek reaches high altitudes, reaching as high as 5,160m at Larkya La Pass.
The limited infrastructure along the trail means basic accommodation and facilities, necessitating careful planning and employing a perfect tour partner. Cultural and linguistic differences may present communication challenges, as the local communities have their own unique dialects.
Reasons to trek:
The Manaslu Tsum Valley Trek is a remarkable adventure. Firstly, the trek takes you through the pristine and untouched landscapes of the Manaslu region, offering breathtaking views of snow-capped mountains, lush valleys, and cascading waterfalls.
The trek also provides an opportunity to immerse yourself in the unique culture and traditions of the Tsum Valley, also known as the "Hidden Valley of Happiness." You'll gain insights into their ancient Tibetan Buddhist way of life while visiting monasteries and witnessing colorful festivals. Moreover, the trek is relatively less crowded, allowing for a more serene and intimate experience with nature. The challenge and thrill of crossing high mountain pass like Larkya La (5,160m) add an exhilarating element to the trek, making it a rewarding endeavor for adventure enthusiasts.

Link: https://www.discoveryworldtrekking.com/trips/manaslu-tsum-valley-trek


These are the ten most challenging treks you can complete in Nepal. Some of these treks are not possible in winter or even during the monsoon. When you prepare for these treks, you should keep in mind the season you are trekking. As challenging treks, you must prepare yourself by taking part in exercises that enhance your stamina, a few weeks before the trek departure date. Moreover, you must purchase adequate insurance - including helicopter rescue at high altitudes - and medical treatment coverage.
Discovery World Trekking conducts all of these challenging treks safely. If you wish to complete any of these treks, call/Viber/WhatsApp us at 977 - 9840055491 or email [email protected].